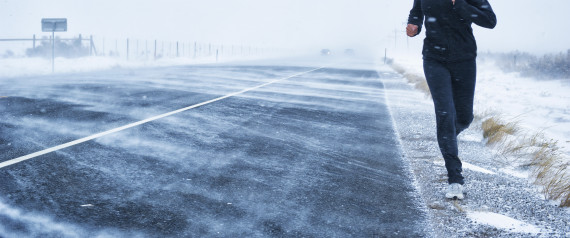 Now that all the big fall races are over and the weather is getting colder, most people are ready to pack away their sneakers and hibernate. While some consider the winter an off-season, it's definitely not the time to slack off from training.
"Many runners simply take the winter off, but this is a huge mistake," says Jason Fitzgerald, USATF-certified running coach. "Taking a season off — or barely running at all — prevents most runners from progressing."
Take elite Saucony-sponsored runnerTina Muir, for example. After running the Chicago Marathon in October, Muir has spent time working on the little things to make her a stronger runner like building strength, improving her form, and practicing yoga. "This downtime between racing is the best time to do it," says Muir. "You can't throw a lot of this work in when you're training hard since your muscles are already fatigued. And, this way, you don't have to spend half the spring and summer getting back into shape."
In fact, the winter is the perfect time to build a solid foundation for running. "Figure out what your weak links are and to focus on those things," says Jay Dicharry, director of the REP Biomechanics Lab, author of Anatomy for Runners and USATF-certified coach. "It's not good enough to just have a strong engine. You need to have a strong chassis too — mobility, stability and strength. That will give you a better body to run with."
So, what's a runner to do when the temps start dropping and workouts get moved indoors? For starters, focus on these seven key areas this winter. These exercises will help you figure out the right way to move so that you'll be ready for a strong season of running once the weather warms back up.
Read more – http://www.huffingtonpost.com/2015/01/23/run-faster-winter_n_6511170.html?utm_hp_ref=healthy-living